Fix WordPress SSL HTTPS Issue
Is your site Still Display non secure?
If you're seeing the "Not Secure" error on your website, it could be due to the lack of an SSL certificate and non-usage of the HTTPS protocol. Our team can fix the WordPress SSL issue within 24 hours or less, ensuring your website is secure and functional.
Fix the HTTPS Not Secure Error
Fix the "HTTPS Not Secure" Message in Chrome
If your website's URL starts with HTTP instead of HTTPS, it indicates that your website is missing an updated SSL Certificate and will be labeled as "not secure." This can result in warning messages such as "Your connection to this site is not secure" or "Your connection is not private" for visitors using different web browsers. As a consequence, most people will likely leave your website in search of a secure alternative.
Furthermore, having an insecure website can negatively impact your search engine ranking and organic traffic. A website with a proper SSL Certificate, on the other hand, is more likely to attract organic traffic and achieve better search engine rankings.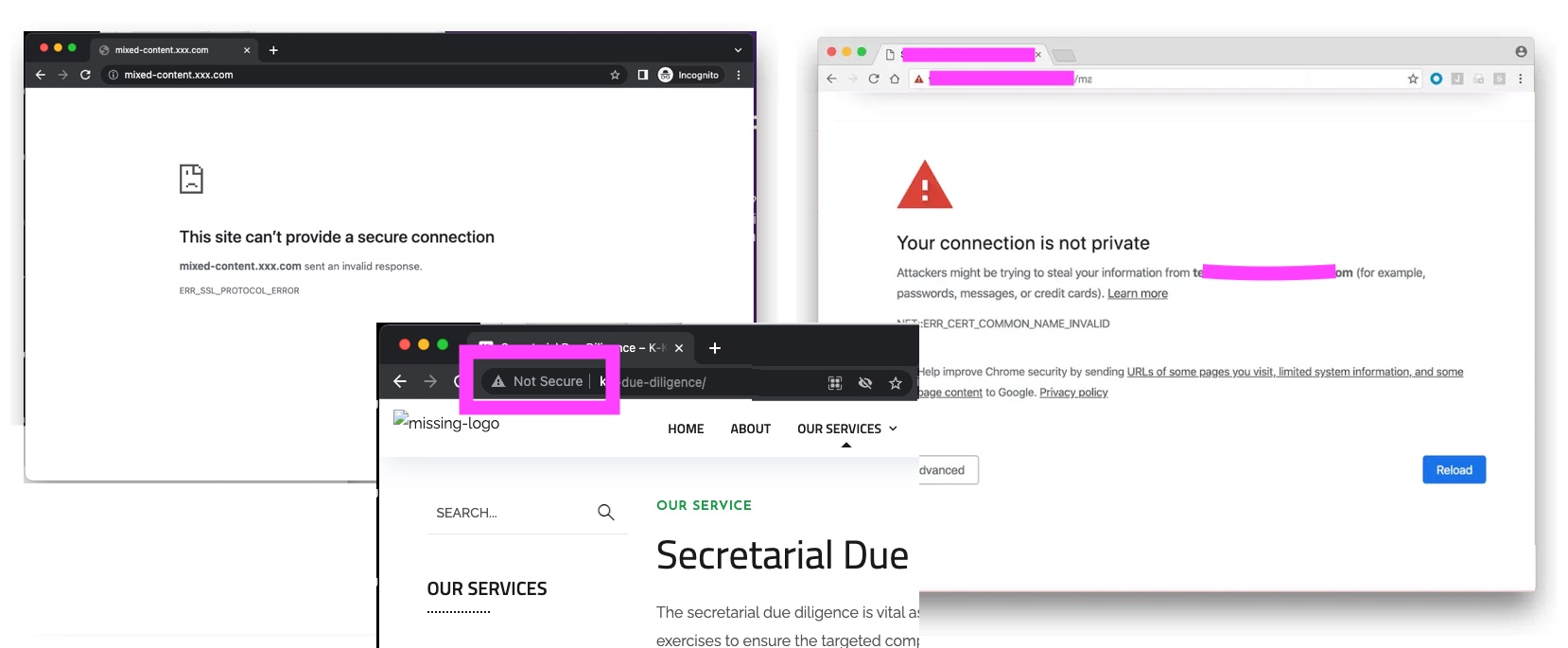 The Importance of Having a Secure Website
Insufficient security measures can make you and your website visitors vulnerable to viruses, potentially causing a negative impact on your website's search engine ranking, particularly on Google.
Additionally, instead of seeing an increase in conversions and sales from your landing pages and other pages, you may lose business and revenue. So many advantages of having a secure website:
Build Trust with Site Visitors
Gain Authority on Search Engines
Provide Safety for You and Your Site Visitors
Experience Higher Conversions
Avoid Security Maintenance and Cleanup.
How to Fix a "Not Secure" Warning on WordPress Site
Having learned about the implications of having a "not secure" website and the benefits of resolving it, let's delve into the ways to make a website secure:
Check with Your Hosting Provider Many web hosting companies offer a free SSL Certificate, which you can download and install onto your website using their dashboard, web development program, or content management system (CMS).

Download a Free SSL Certificate Several online providers offer free SSL Certificates that you can download and install on your own. However, it's essential to ensure that the provider is reliable and secure before making a choice.

Hire a Reliable Web Designer who Provides SSL for Free Professional web design companies such as JustSimple can assist you in resolving site not secure errors and messages. If you're creating a new website or redesigning an existing one, a dependable web designer will incorporate an SSL Certificate into their standard website design services.
Let JustSimple Team Create a Secure Website for You If you want to avoid site not secure warnings, working with JustSimple Team is the best way to start!
Install SSL Certificate on WordPress Ad-hoc Service
We fix WordPress SSL Issue!
An SSL certificate is a type of digital certificate that provides encryption for the data transmitted between your website and its visitors. If you intend to accept payments on your website, having an SSL certificate is crucial. While web hosting packages typically come with a free SSL certificate, you may need to purchase one separately if you require enhanced website security. We can assist you by securely and comprehensively updating your WordPress system. Our team will install and configure the latest SSL certificates and test them for usability.
Our company specializes in providing dependable and thorough WordPress technical support. We recognize that managing a website can be difficult, particularly when dealing with technical issues. This is why we offer both one-time and ongoing support options to ensure that our clients are never burdened with WordPress problems again. 
Install Secured SSL on WordPress Site
Professional SSL Installation and Configuration
Get Your WordPress Site Fixed Now
Stop wasting your time we will fix your WordPress HTTPS or SSL issue today! Get a professional single fix from our team of experts. We can start working on your website immediately. We assign each WordPress issue or task to a dedicated and experienced WordPress expert to ensure efficient resolution and complete customer satisfaction.
1. Request a WordPress Fix
Please fill out the Sign Up form below with your server credentials and complete the online payment (credit/debit card).
2. Instant Response
Our WordPress experts will review and start working on your task. We may reach out if any additional information is needed
3. We Fix Your Website
We fix your WordPress website SSL issue, remove un-secure warning from website and provide a detailed report on what was done.
Sign-up for One-time WordPress Ad-hoc Services
Fix WordPress SSL/HTTPS Problem
WordPress SSL HTTPS Issue FAQ
Frequently Asked Questions
We've answered some common WordPress support questions below.
Feel free to reach out to us regarding any website problems you may have before placing your order.
Our sales and support team work 24/7 and are delighted to answer any queries you may have.
WordPress Monthly Maintenance Service​
If your WordPress web site needs
regular content updates and support each month
, retainer plans are for you! Strengthen your WordPress website with our monitoring services. We keep your site performance optimized, update plugins, themes and more to reduce cybersecurity risks and prevent monetary loss caused by outdated websites.